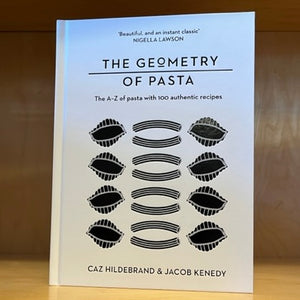 Bluebird Books for Life
The Geometry of Pasta
Regular price
$22.90
$0.00
The A to Z of pasta with 100 authentic recipes.  Written by Caz Hildebrand and Jacob Kenedy. Hard Cover. 288 pages. Black and white illustrations.

THE ITALIANS HAVE A SECRET
There are said to be over 300 shapes of pasta, each of which has a history, a story to tell, and an affinity with particular foods. These shapes have evolved alongside the flavors of local ingredients, and the perfect combination can turn an ordinary dish into something sublime.
The Geometry of Pasta pairs over 100 authentic recipes from critically acclaimed chef Jacob Kenedy with award-winning designer Caz Hildebrand's stunning black-and-white designs to reveal the science, history and philosophy behind spectacular pasta dishes from all over Italy.
A striking fusion of design and food, The Geometry of Pasta tells you everything you need to know about cooking and eating pasta like an Italian.
---
Share this Product
---
More from this collection