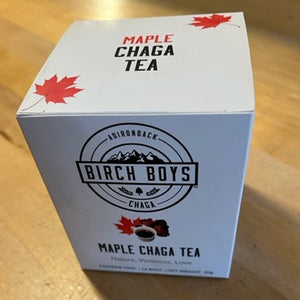 Birch Boys, Inc.
Maple Chaga Tea
Regular price
$10.00
$0.00
Maple Chaga is mild with a hint of sweetness. Enjoy Chaga tea by itself, or enhance your morning tea, coffee, or hot chocolate.

Loaded with vitamins, antioxidants, polysaccharides, super-oxide dismutase and so much more! Indulge in your own wellness with a warm cup today.
16 Tea Bags in a cardboard box. Four recipes for making Chaga Tea printed on box.
Ingredients: 100% wild-harvested Chaga mushroom and granulated maple sugar.
Ethically harvested.
Net Wt. 40g
---
Share this Product