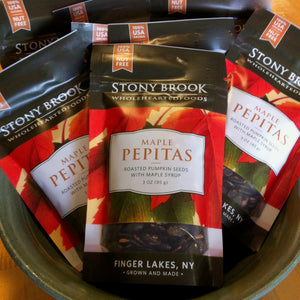 Stony Brook WholeheartedFoods
Maple Pepitas
Regular price
$3.95
$0.00
Pepitas are salted, roasted pumpkin seeds - these Stony Brook Maple Pepitas are brined, roasted, and coated in maple syrup. They have a crispy, crunchy texture with a savory sweetness.
Pepitas are more than just a great snack food. Try a handful on your morning cereal or toss into salad or yogurt. Add crunch to cooked vegetables. Blend into a smoothie or add to you own trail mix.
Pumpkin seeds are high in protein and fiber.  They also contain healthy plant-based fats, zinc. lutein, beta carotene, and vitamin E. Non-GMO Project Verified, Vegan, Gluten-Free, Nut Free.
Ingredients: pumpkin seeds, New York maple syrup, sea salt.
Grown and made in Finger Lakes, New York.
---
Share this Product
---
More from this collection