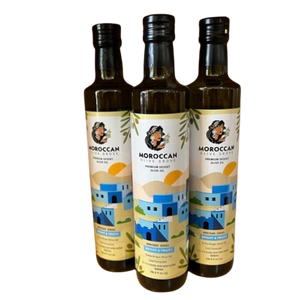 Moroccan Olive Grove
'Bright & Fruity' Moroccan Extra Virgin Olive Oil
Regular price
$23.00
$0.00
Moroccan Olive Grove's Heritage Series, Premium Desert Olive Oil 'Bright & Fruity' is a flavorful, extra virgin olive oil that hails from a single origin farm in the north of Morocco.
Its unique flavor is an homage to the peaceful Rif Mountain village of Chefchaouen, an aquatic-looking paradise with homes painted the color of the sky. Chefchaouen is known as Morocco's blue pearl.
'Bright & Fruity' olive oil is made from the current crop and cold-pressed within hours of harvest. Enjoy the flavor of ripe fruit with bright hints of apples and almonds rounded out with a touch of spice.


Taste Profile: A bright and fruity body along with notes of fresh grass and thyme, and a long-lasting peppery finish in the throat, reveals the high level of polyphenols packed in this oil.

Marries well with: Bitter greens, salads, vegetables, braised meats, and pasta dishes

Press: Pressed within hours of harvest in the farm's mill.

Extraction Mode: Cold extraction 0.2% acidity level when bottled

Storage: stored in a state of the art stainless steel cisterns prior to bottling

Glass Bottle Size: 16.9 oz
About Moroccan Olive Grove
In Morocco, every city has its color, and its terroir and Moroccan Olive Grove hopes that by sharing the gift that grew from their culinary nostalgia, you too will live happier and healthier with meals that will connect you to a history, a moment, a place and people.

Moroccan Olive Grove honors the 2,000-year-old sacred and cultural tradition of Moroccan olive oil farming by highlighting the best regional olive oil across the country from farmers big and small in a way that prioritizes sound environmental practices, lifts the community, and honors their Moroccan mothers and women who have kept us connected to a tradition of hospitality and our culinary heritage.
---
Share this Product
---
More from this collection